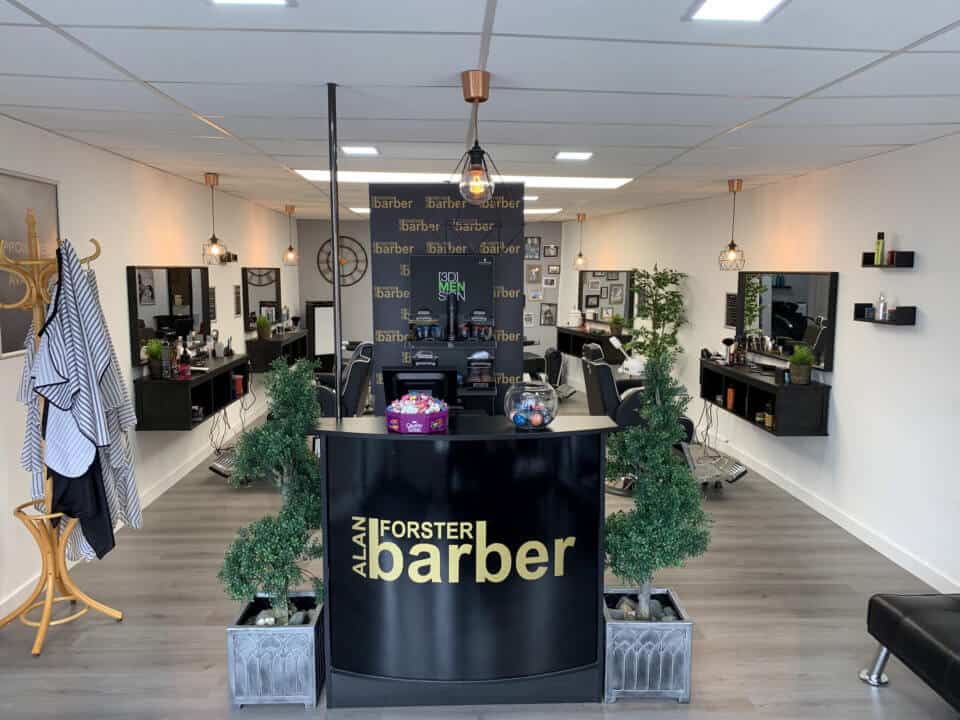 welcome to
BARBERS!
BOOK YOUR APPOINTMENT ONLINE
Our Motherwell
01698 252341
ALAN FORSTER BARBERS MOTHERWELL
Welcome to Alan Forsters Barbershop, where we pride ourselves in being a professional luxury salon for men. As with all our shops you can expect a relaxed, warm atmosphere. You will always be welcomed here with friendly faces who will look after you and cater to your every need during your visit. Experience our practise we have created specifically to portray the art of modern and traditional barbering. Here you will find the VIP treatment you deserve and see confidence from our stylists which will assure you and help you achieve whichever style you desire. All aspects of male grooming are available on your request beard care, classic and modern hairstyles, colour, cutting, perming and waxing. Premium coffee selection of teas and soft drinks will bne offered complimentary too. So sit back, relax and enjoy the service we happily provide for you!
Hello, my name is Siobhan Boyle. I have been hairdressing for 15 years now and throughout my career I have gained a vast knowledge in both ladies and men's hair. After completing my qualifications as well as multiple vigorous training courses at an advanced level, I continued to work hard to perfect my skills to a high standard. Mostly I have worked locally in high end salons, but also internationally, onboard 6-star luxury cruiseliners. I am proud to say I am highly qualified and take great pride in my work so that my clients can feel confident and trusting in the hands of a professional.
OUR CUT PRICES
Wash & Cut

from £18

Skin Fade

from £18

Restyle Cut

from £18

Kids' (0-5)

from £9

Boy's Cut (6-16)

from £10

Senior Citizens (Monday)

from £6
CLIPPER CUT
Clipper Cut (Number All Over)

from £10
EXTRAS
Colour - Highlights

from £30

Beard Tints

from £40
BEARDS
Gold Label Wet Shave

from £15

Full Beard Reshape

from £10

Beard Express Trim

from £5
WAXING
Eyebrows

£6

Nose

£4

Ears

£2

Complete Package: Eyebrows, Nose and Ears.

£10
MON

09:00-17:30

TUE

09.00-17.30

WED

09.00-17.30

THU

09:00-19:00

FRI

09:00-18:00

SAT

08:00-17:00

SUN

Closed
HIGHEST QUALITY SERVICES WITH CONFIRMATION FROM CLIENTS
OUR SERVICES AND WHAT PEOPLE THINK ABOUT THEM
HAIRCUTS & STYLING
Call us on 01698 252341 to book or make enquiries.
WASH & CUT - from
£18
Shampoo and condition followed by cut, finish and style with our extensive range of premium products. (30 minutes)
CLIPPER CUT ALL OVER - from £10
A thorough all over trim with the most exclusive clippers and finished with open razor all around the edges. (10 minutes)
RESTYLE CUT - from
£18
A proper consultation then shampoo and condition followed by the cut. This is for those that are not scared to try something different. (45 minutes)
FADES & SKIN FADES - from
£18
Consultation. Shampoo and condition followed by the cut and finished with the foil razor all done by our professional team who are experts in this game. (40 minutes)
KIDS (0-5) CUTS - from
£9
This gets you an appointment to save sitting about with the not so patient kids. Children get to experience a relaxed separate room that will put them at ease and with our amazing race car designed to keep your boy entertained. After that he will be rewarded with a treat. (20 minutes)
BOY'S HAIRCUT (6-16) - from
£10
Coinsultation, cut and finish and styled with our premium range of products. Includes fades.
SENIOR CITIZEN MONDAY SPECIAL -
£6
All day Monday to make sure the gentlemen are well looked after. This will include one of our premium coffees or just an old fashioned cuppa tea!
BEARD TREATMENT
Maintain poise and savoir faire with a perfectly groomed beard.
THE GOLD LABEL WET SHAVE -
£15
A real close shave tailored for your personal skin sensitivity. Two open razor shaves with 2 hot towels included. Using our premium range of shaving products. (45 minutes)
FULL BEARD RE-SHAPE -
£10
Consultation then trim with scissors and clippers. Defining lines with the open razor and then a hot towel to finish. Premium beard products and expert advice on the maintenance of your beard also included. (20 minutes)
EXPRESS BEARD TRIM -
£5
A clipper trim over the beard and defining lines put back in. Finished with our products. (10 minutes)

COLORING SERVICES
In addition to cutting hair we can also offer colouring services.
HIGHLIGHTS -
£
Highlighting service.
TONER -
£
Toning service.
PERM -
£
Perm service.
WAXING SERVICES
Prices, products and offers may vary per location.
EYEBROWS -
£
Eyebrow waxing for an extra touch of elegance to your male grooming regime.
NOSE -
£
Nose waxing service
OTHER SERVICES
Please visit this section to learn all about new services we introduce to add to your pampering regime.
SERVICE 1 -
£?
New Services are on their way.

I can honestly say that I was really surprised by the standard of pampering you get at Motherwell's premier Barbershop. Every guy really has to get out and get a pamper. As they say... You're worth it!

It's nice to see a fresh new way to pamper yourself. Definitely top notch. It's great so see a High End Barbershop for men. for a change. MEET OUR TEAM OF BEARD PROFESSIONALS