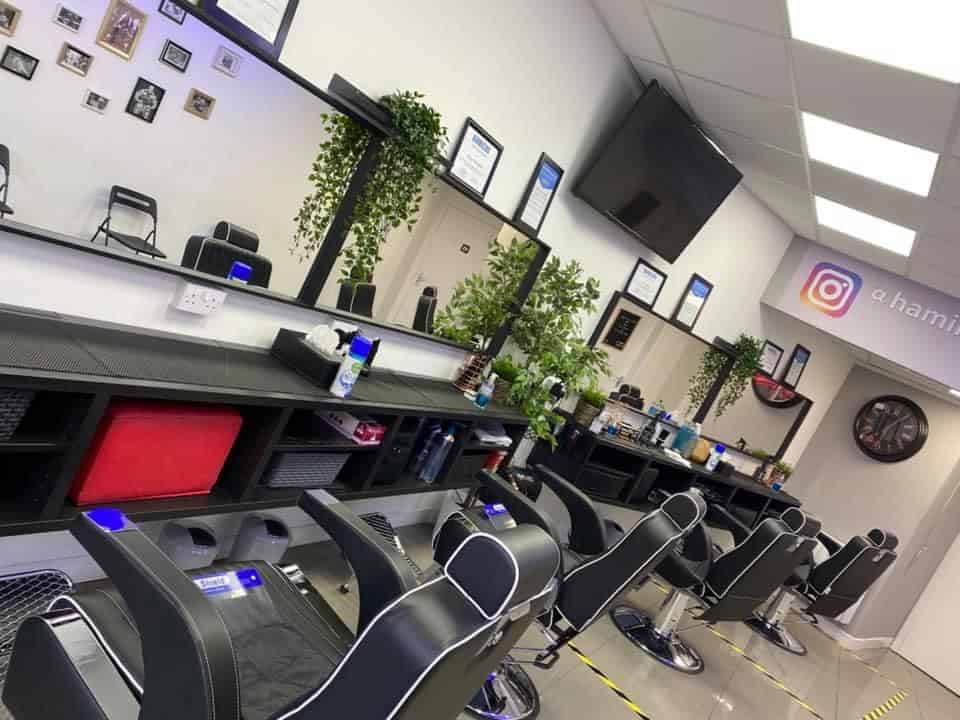 welcome to
BARBERS!
BOOK YOUR APPOINTMENT ONLINE
Our Hamilton
01698 760960
ALAN FORSTER BARBERS HAMILTON
At Alan Forster Barbers in Hamilton it is our mission to treat you with good old-fashioned courtesy. We also take great pride in the service we offer giving each client an up-to-date look so they leave us walking tall and perfectly groomed.
We pride ourselves on our customer service, expert fnishing and our hot towel face shaves. An old-fashioned shave with an open blade simply cannot be beated! Why not experience the ultimate in close shaves, whether for a special occasion or simply just because you want to treat yourself?

Please Book appointments. Our telephone number is 01698 760960
PRICES
Gent's Cut

from £12

Fades

from £15

High School

from £8

Kids' Cut

from £7

OAP

from £5.50

OAP Special (Mon)

£4

Beard Trims

from £4
MON

Closed

TUE

09.00-17.30

WED

09:00-17:30

THU

09:00-19:00

FRI

09:00-18:00

SAT

08:00-17:00

SUN

Closed
HIGHEST QUALITY SERVICES WITH CONFIRMATION FROM CLIENTS
OUR SERVICES AND WHAT PEOPLE THINK ABOUT THEM
HAIRCUTS & STYLING
Visit your local Alan Forster Barber's page for prices.
GENT'S CUT - from
£12
Haircut to perfection.
FADES - from
£15
Trendy fades for the man about town.
HIGH SCHOOL CUTS -
£8
Cool kids cuts (under 12 years)
KIDS CUTS - from
£7
Awesomeness on a kiddy budget.
OAP - from
£5.50
The distinguished clean, neat and tidy haircut for the older gent.

BEARD TREATMENT
Your beard can look as sharp as your haircut.
TRIMS - from
£4
Trim and neat sculpting of your beard.
COLOURING SERVICES
Interested in Colouring Treatments? We'd be pleased to have your enquiry.
TREATMENT -
£?
New Services coming soon.
BEARD WAXING
Call your local Alan Forster Barbers is you have any requests.
TREATMENT -
£?
New Services coming soon.
OTHER SERVICES
We are constantly improving and adding to the range of services we offer. Extra services will appear below.
TREATMENT -
£?
New Services coming soon.
The Hamilton team are a top quality bunch. I wouldn't go anywhere else. They have got to know exactly what I like.

I haven't been in Hamilton very long. A mate at work told me about this barbershop. I'm glad I listened to his recommendation. You can't go wrong coming here for a great haircut. MEET OUR TEAM OF BEARD PROFESSIONALS